Best Psychiatrist Doctor in Delhi - Dr. Soumiya Mudgal
More About Us
Dr. Soumiya Mudgal, a Psychiatrist Doctor in Delhi is committed to providing comprehensive mental health treatment and solutions. She is a mental health specialist with more than 16 years of experience and has cured hundreds of patients. Moreover, her mission is to offer each patient specialized care that is empathetic in order to promote their psychological health and recovery. Dr. Soumiya Mudgal's experience treating patients will be highly beneficial for obtaining an appropriate, moral, and efficient course of therapy.
Dr. Soumiya Mudgal's Psychology Clinic is known for housing experienced and trusted psychiatrists. She is a well-known and famous psychiatrist in Delhi who appeared in many media coverages such as Dainik Bhasker, Lybrate, Practo, Hindustan Times, The Health Site, and Health Shots.
By combining excellent care with ultramodern facilities, we strive to provide effective mental health care and treatments. We are the best psychological center in Delhi and are trusted by thousands of happy patients.
Best Female Psychiatrist in Delhi
Dr. Soumiya Mudgal, a psychiatrist doctor in Delhi uses an integrative treatment strategy because we recognize the complexity of mental health disorders. We combine the best elements of psychiatry, psychology, health technology, and—most importantly—an endless love for caring for patients to create a platform for mental health treatment that is both seamless and joyful. The doctor is located in Delhi, Delhi NCR, Psychiatrist Doctor in Safdarjung, and Psychiatrist Doctor in Hauz Khas. 
A Vision Where Patients Are Only Priority
With a customized and holistic therapy strategy, the Best Psychiatrist Doctor in Delhi provides evidence-based psychiatric and psychological therapies for the treatment of mental health conditions. Moreover, Psychiatrist in Delhi's goal is to provide you with the highest quality individualized mental healthcare at an accessible price by fusing the most recent information, research, clinical expertise, and technologies with a combination of eastern wisdom.
Our Psychiatrist Doctor In Delhi Are Dedicated To Treating Patients
Our Vision: We envision a society where everyone lives up to their full potential in terms of health and happiness. Being their valued partner and agents of change, we strive to earn our patients' trust.
Our Providers: Comprehensive mental healthcare that is patient-centric is provided by a team of caring and skilled physicians, researchers, academicians, and technology specialists.

Our Mission: To provide you with the best individualized mental healthcare at a reasonable price, we merge the most recent information, research, clinical expertise, and technologies with a combination of eastern wisdom.

Our Space:

Carefully planned modern outpatient and virtual clinics, rehab facilities, academic and innovation zones, and spaces with a positive atmosphere.
Dr. Soumiya Mugdha are constantly voted to be amongst the best psychiatrist in Delhi & Delhi-NCR. See the latest Feedback we have from our patients - all verified by Practo.
Dr. Soumiya Mudgal is very intelligent and dedicated doctor doctor. I was suffering from bipolar mood disorder due to which I had serious health problems which other psychiatrist could not identify and she diagnosed my illness within no time. And her treatment is so effective that nowshe is the best doctor i have ever met.
I took my brother for treatment with Dr. Soumiya mudgal. He was suffering from some mental issues and visiting many doctors for a few months and then went to dr. Soumya. She listened to our problems in detail and went through all the old records patiently. My brother is doing fine. I recommend her.
Why Choose Soumiya Mudgal As A Psychiatrist Doctor in Delhi?
Experience & Qualifications
Soumiya Mudgal is a well-known psychiatrist who offers the best psychiatry treatments in Delhi and has a wealth of experience treating a variety of mental conditions. She holds a Child & Adolescent Psychiatry Certification from NIMHANS in Bangalore. Also, she has an epilepsy fellowship. 
Dr. Soumiya Mudgal earned her MBBS at Rajiv Gandhi University in Bangalore and her MD (Psychiatry) at Santosh University in Ghaziabad. She currently holds the positions of Senior Psychologist at Max Gurgaon, Assistant Professor at Lady Harding Medical College, and Senior Psychologist at S.S.I.C. Hospital. Moreover, She works as a Senior Resident at G.B. Pant Hospital and Maulana Azad Medical College.
Expert in Psychology
Dr. Soumiya Mudgal is the Best Psychiatrist in Delhi and has vast experience treating various psychiatric disorders, including drug and behavioral addiction. She has previous expertise in treating every psychiatrist's disease in medical facilities. These patients must be treated with the utmost kindness and patience if they are to receive the excellent medical care they deserve. 
Highest Success Rate Cure
Dr. Soumiya Mudgal has successfully treated more than 20,000 patients till now. She has the highest success rate in curing mental disorders of all time. Patients need a doctor who has the training and equipment necessary to handle any emergencies that might arise while they are receiving care. At Dr. Soumiya Mudgal's clinic, you can obtain all the equipment needed to treat patients.
Get Better Now! Just Make An Appointment
What Is The Specialty Of The Psychiatrist Clinic in Delhi?
One of the top medical facilities in the world dedicated to brain health is Dr. Soumiya Mudgal, the best psychiatrist doctor in Delhi. We offer mental health-focused counseling, psychotherapy, psychology, art therapy, and psychiatric services. You may rely on us for everything from psychological testing to wellness management. Moreover, the best female psychiatrist in Delhi offers assistance for difficulties like relationship and sexual demands, anxiety, mood swings, sleep problems, and OCD.
Expertise OF Our Psychiatrist Dr. Soumiya Mudgal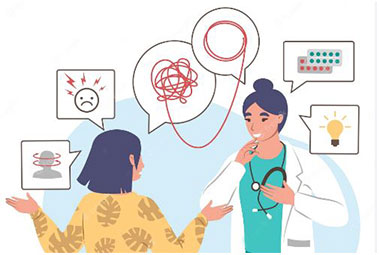 De-addiction
The first stage of the de-addiction procedure, which launches the healing process, is detoxification. De-addiction refers to a method of treating a tobacco, alcohol, or drug addiction. It is intended to get rid of the physiological side effects of psychoactive substances and to balance out any negative impacts that might have on how well the body works. In an effort to improve human health, we at Dr. Soumiya Mudgal, the best psychiatrist doctor in Delhi work to make the detoxification procedure as simple as possible.
Child and Adolescent Psychiatry
A child and adolescent psychiatrist is a medical professional who focuses on the identification and management of mental, emotional, and/or behavioral disorders affecting kids, teens, and their families. The benefits of medical education, the medical traditions of professional ethics, and the medical duty to deliver comprehensive care are things that our psychiatrist, Dr. Soumiya Mudgal, a psychiatrist doctor in Delhi offers families.
Stress and Depression Management
To assist you to deal with stress and difficulty (adversity) in your life, stress management offers a variety of solutions. By managing your stress, you may lead a more wholesome life. A challenging circumstance causes stress, a normal physical, mental, and emotional response. 
Everyone encounters it frequently. When used constructively, stress can encourage growth, movement, and transformation. But chronically bad stress may make you feel worse. Dr. Soumiya Mudgal, a psychiatrist doctor in Delhi will assist you in effectively managing your stress.
Women's Mental Health 
Males and women might experience mental illnesses in various ways. The Best Female Psychiatrist in Delhi noticed that Women are more likely than men to face depression and anxiety problems due to various factors. Additionally, several diseases only affect women. For instance, during times of hormonal change, specific women may exhibit symptoms of mental disorders such as prenatal depression, premenstrual dysphoric disorder, and perimenopause-related sorrow. 
However, because some symptoms may be more prevalent in women than in males and because sex might have an impact on how an illness develops, women may experience some illnesses differently. For any such issues, get in touch with a psychiatrist doctor in Delhi Dr. Soumiya Mudgal.
Psychosis and Mood Disorders 
As Best Female Psychiatrist in Delhi stated, those who have the condition exhibit both psychotic symptoms, such as hallucinations or delusions, and symptoms of a mood illness, such as bipolar type (manic episodes and occasionally depression) or depressive type (episodes of depression).
Book An Appointment With The Best Psychiatrist Doctor In Delhi
To obtain the best care from our psychiatrist Dr. Soumiya Mudgal, the best psychiatrist doctor in Delhi contact us and make an online appointment with a specialist in psychiatry. Your appointment can be easily scheduled online.
Dr. Soumiya Mudgal
Love is a powerful force that forms the foundation of many romantic relationships. It brings joy, passion, and fulfillment, making life's journey more meaningful. However, as much as love can create a deep connection between...